Nostalgie with the Golder Girls in Berlin – Diets are for sissies!!
May 21st, 2022 | By
mervi
| Category:
Featured articles
21.5.2022 – An old story from 2013 by Tosca (D/E) (with a little help from Mervi), Photos by Monika aus Berlin, Translation into German by Caren
Dear friends! I guess you're wondering what we've been up to? Well, our nice visitors have treated us with huge salmons and big, juicy water melons so often that we've been busy eating and digesting!! And, of course, we have been napping, too!
Ich denke, Ihr fragt Euch, was wir so alles gemacht haben? Nun ja, unsere netten Besucher haben uns so oft mit riesigen Lachsen verwöhnt, auch mit großen und saftigen Wassermelonen, so dass wir sehr mit Essen und Verdauen beschäftigt waren!! Und wir haben natürlich auch unsere Nickerchen gehalten!
However, the nice visitors are having vacation now and they've travelled abroad…..
Die netten Besucher haben nun Urlaub und sie sind weggefahren ….
Kati is waiting for the food service
Kati wartet auf den Service
No scent of salmon, no melons in sight ….. Well, she can always entertain herself with a wood branch.
Keine Spur von Lachs, keine Melonen in Sicht …. Nun, sie kann sich immer selber mit einem Holzzweig unterhalten.
Look how beautifully she framed her face!
Schaut, wie schön sie ihr Gesicht eingerahmt hat!
Maybe this tastes good, too…..
Vielleicht schmeckt das auch gut ….
Have you seen a polar bear with a green nose before? 🙂
Habt Ihr schon einmal einen Eisbären mit einer grünen Nase gesehen? 🙂
This is Kati's famous Moshe Dayan imitation. I'm sure Mr Dayan would have looked better with a green eyepatch instead of the black he used to wear. As far as I know he wasn't wearing a white fur either…..
Dieses ist Kati's berühmte Moshe Dayan Imitation. Sicher hätte Herr Dayan mit einer grünen Augenklappe viel besser ausgesehen als mit der schwarzen. So weit ich weiß, hatte er auch keinen weißen Pelz ….
While Kati was playing with the branch Nancy went into the water, too. Very carefully, of course. As we all know that girl doesn't want to wet her boomsie! 🙂
Während Kati mit ihrem Zweig spielte, kam Nancy auch ins Wasser. Natürlich sehr vorsichtig. Wie wir alle wissen, möchte sie ihren Boomsie nicht nass machen 🙂
Where on earth is the service staff with our food???
Wo, um Himmels Willen, ist das Servicepersonal mit unserem Futter???
Nancy and Kati comforted each other while waiting.
Nancy und Kati trösteten sich gegenseitig, während sie warteten.
Exchanging secrets? They just received a long letter from Fräulein Flocke so they have lots of 'delicious' gossip from the world of polar bears!
Tauschen sie Geheimnisse aus? Sie haben gerade einen langen Brief von Fräulein Flocke erhalten, somit gibt es viel "delikates" Geschwätz aus der Welt der Eisbären!
Nancy was getting really hungry now. Maybe that's why Kati didn't allow her nibble her ear…..
Nancy wurde jetzt richtig hungrig. Vielleicht läßt Kati sie deshalb nicht an ihrem Ohr nuckeln …
We only had some meat and bread. Let me tell you that we were not amused!!!
Wir haben nur etwas Fleisch und Brot bekommen. Ich muss Euch sagen, "Wir waren nicht begeistert" !!!
So little food and so little to play with! How we wish we had toys….. I just saw photos of my ex-boyfriend Lars playing so happily with two white plastic barrels. It would be so fun if we could have some barrels, too – never mind about the colour although blue would be nice…..
So wenig Essen und so wenig Spielzeug! Wie sehr wünschen wir uns Spielzeug …. Ich habe gerade Photos von meinem Ex-Freund Lars gesehen, wie er so glücklich mit zwei weißen Plastikkanistern spielte. Es würde uns Spaß machen, wenn wir auch solche Kanister hätten – die Farbe spielt dabei keine Rolle, obwohl blau schön wäre …
Well, we have each other and sometimes we can find a treasure in the water such as a wood lumb.
Na ja, wir haben uns, und manchmal finden wir einen Schatz im Wasser, so wie diesen Holzklotz.
Have they put us on diet or what? We don't need a diet! What mumbojumbo is that! We may look rather roundish but it's only because we are well filled and have thick furs!
Haben die uns auf Diät gesetzt? Wir brauchen keine Diät! Welch ein Blödsinn ist das! Wir mögen ja ziemlich rundlich ausschauen, aber nur, weil wir gut gefüllt sind und dicke Pelze tragen!
A polar bear must look white, fluffy and roundish! Even Fräulein Flocke wrote so in her Flogue and she knows all about how we should look!! Well, she actually wrote 'pink, fluffy and roundish' but let's say she was in an 'artistic mood' when she wrote those words.
Ein Eisbär muss weiß, flauschig und rundlich aussehen! Sogar Fräulein Flocke schrieb das in ihrer "Flogue", und sie weiß genau, wie wir aussehen sollten !! Nun, sie schrieb eigentlich "pink, flauschig und rundlich" – aber man kann sagen, dass sie eine künstlerische Laune hatte, als sie diese Worte schrieb.
Our dear friend Knuti used to say that lettuce is for sissies. I'd like to add that diets are for sissies!
Unser lieber Freund Knuti pflegte zu sagen Salat ist für Jammerlappen. Ich möchte hinzufügen, dass Diäten für Waschlappen sind.
Kati tried to eat that green stuff in the water but she should know by now that stuff is better used as a face masque! You just ask Aika.
Kati versuchte ihr Grünzeug im Wasser zu essen, aber sie sollte es doch wissen, dass man das Zeug besser als Gesichtsmaske anwendet. Erkundige Dich nur mal bei Aika!
I tried to figure out if there was any eatable parts in the wood branch but came to the conclusion that this is definitely not polar bear food. Maybe I should donate it to the giraffes?
Ich versuchte herauszufinden, ob da irgend etwas Essbares in diesem hölzernen Zweig war, kam aber zum Schluss, dass das mit Sicherheit kein Eisbäressen ist. Sollte ich es vielleicht den Giraffen spendieren?
My empty stomach made me dream of the good old days….. not so long ago…..
Mein leerer Magen bescherte mir Träume aus den guten alten Tagen … gar nicht so lange her ….
Hey, look at this juicy ball! I pinched it from Nancy. She's always stealing Kati's food so it only serves her right.
Hey, schaut Euch diesen saftigen Ball an. Ich habe ihn Nancy geklaut. Sie klaut ja auch immer Kati's Essen, und das geschieht ihr ganz recht.
Hmm, it might be useful as a football as well….. no, just kidding. It wouldn't be right to kick a wonderful melon.
Hmm, den könnte man auch als Fußball benutzen … nein, ich mache nur Spaß. Es wäre nicht okay, eine wundervolle Melone zu treten.
My mouth is watering! Mir läuft das Wasser im Maul zusammen!
Yammy, yammy, yammy!!!
This is what I call a wonderful Summer day. First a king size salmon, then a melon as a dessert in our green garden. After that a well deserved nap!
So etwas nenne ich einen wunderbaren Sommertag. Zuerst einen Kingsize-Lachs, dann eine Melone zum Nachtisch in unserem grünen Garten. Und danach ein wohlverdientes Nickerchen.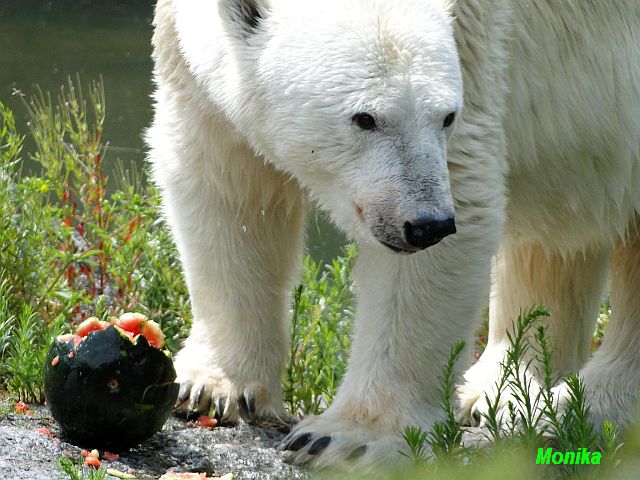 Oh, I'm waiting for our salmon and melon delivers to come back soon! Naturally, we understand they need vacation but on the other hand – we need salmons and melons….. However, we all want to thank the kind visitors for their delicious treats during the year.
Oh, ich warte auf unsere Lachs und Melonenlieferung, auf dass sie bald wiederkommen möge! Natürlich haben wir Verständnis dafür, dass man Urlaub braucht – aber auf der anderen Seite brauchen wir Lachs und Melonen. Wir möchten jedoch den netten Besuchern für ihre köstlichen Gaben während des ganzen Jahres danken
Well, actually I shouldn't be complaining too much. We polar bears are at least allowed to have our furs on unlike the poor alpackas!
Na ja, wir sollten nicht allzu viel klagen. Wir Eisbären dürfen ja wenigstens unseren Pelz behalten, ganz anders als die armen Alpakas!
Even though we strongly disapprove of the 'diet' we're having a good Summer time. Besides, maybe our keepers will surprise us with ice bombs if it gets really hot…..
Obwohl wir die "Diät" auf's Schärfste ablehnen, so haben wir doch eine schöne Sommerzeit. Und vielleicht werden unsere Pfleger uns mit Eisbomben überraschen, sollte es dann richtig heiß werden ….
On behalf of the Golden Girls I wish you all a wonderful Summer time!
Im Namen der Golden Girls wünsche ich Euch allen einen wunderschönen Sommer!
Tosca
Berlin Zoo, Bärenhof